For all you bloggers that are giveaway-addicted (I am!) I've got the Giveaway Linky List updated each week here at abitosunshine! If you're hosting a giveaway, or know of a good giveaway, add it to the linky list!
Please add only the direct link to the giveaway post! (Not the main blog URL) If you are hosting more than one giveaway, feel free to add them all, individually!
Please add the End Date of your giveaway in your description. (Each week I delete entries that have ended.)
Please add the Giveaway button to your blog so others can find the list, too; thank you!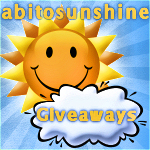 Be sure to...